Last week, we reviewed QuickRes, a menu-bar utility for changing the resolution of—and accessing higher resolutions on—Retina-display MacBook Pros. But even if you aren't using a Retina display, you may have wanted something similar, because Mountain Lion (OS X 10.8) is missing a convenient feature found in older versions of OS X: the Displays menu extra.
Under Lion (OS X 10.7) and earlier, a simple click in the menu bar let you change screen resolutions and, if you had multiple displays, toggle display mirroring. Mountain Lion includes an option, in the Displays pane of System Preferences, to enable a Mirroring menu, but that menu is missing resolution options—and it appears only when multiple displays are connected.
I've been accessing resolution settings by pressing Option and either of my keyboard's Brightness keys—a shortcut that opens the Displays pane of System Preferences. But a more convenient approach can be found in Milch im Gemüsefach's free Display Menu (Mac App Store link).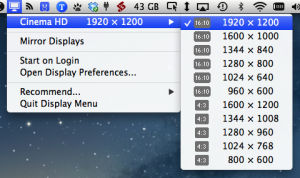 Like the old Displays menu extra, clicking Display Menu shows you a list of all possible screen resolutions, including HiDPI modes (and, for some displays, refresh rates); choose one to switch to it. If you've got multiple displays, you can also toggle mirroring, which means you can disable Mountain Lion's own Mirroring menu-bar option.
To read this article in full or to leave a comment, please click here
Vía Macworld